During the DevOps work at the company I like flushing the browser history, clean recently accessed directories and some temporary files. Having to work with Windows 7 in a company domain (Windows 7 – company policy), the temporary directories and installer cache is filling up quickly.
A good system cleaner
Unfortunately there is no easy accessible Windows Tool available. Garbage cleaning with Windows 10 is a bit better, but still manual work. Looking for an alternative for CCleaner to bypass the license jungle, there is BleachBit. Opensource and designed for Windows and Linux (yes!). It crawls installed programs and their work directories matching cleanup scripts.
Depending on your installed software it can be used for:
improve your privacy (Clean up Adobe history, Skype temporary files, VLC history, Explorer history…)
free some space (Windows appdata local temp storage and installer files…)
wipe space (overwrite)
deep dive the disk (to remove Thumbs.db cache)
support OpenSource software
BleachBit does the work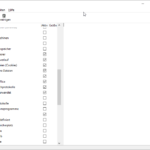 This routines are prepared and maintained by community maintained scripts – very nice. Unless you keep the hands off Windows registry cleaning (unaffected by the application) I can fairly recommend this tool.
Source
Website: https://www.bleachbit.org
Download: https://www.bleachbit.org/download